OrgChart Platinum lets you accomplish intelligent organisation charting and workforce planning.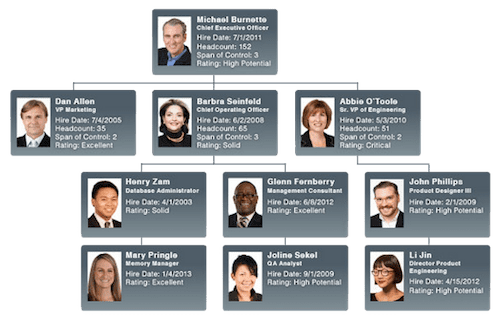 OrgChart Platinum can quickly assemble your organisational structure charts from your HR data or company directory. OrgChart Platinum can be used for budgeting, staffing, and succession planning. And your org charts can be easily shared throughout the company. OrgChart Platinum is the best tool to visualise, communicate and manage the key working relationships of your company's precious resource – your employees.
Easy Chart Creation & Publishing. Take data from a spreadsheet or any payroll system or Human Resource Information System to automatically create charts.  Publish to interactive PDF, the web, or Microsoft Office.
View Critical Talent Information. Display any employee attribute (e.g., performance ratings, potential successors for key roles, etc.). Identify employees with specific characteristics (e.g. high-potentials) through color coding and then view the comprehensive talent profile on each employee through single-click access.
View Talent Gaps. Identify areas of the organisation which may lack critical competencies, individuals filling key roles, future successors or potentially "at risk" employee groups.
Export in Multiple File Formats.  Export your organisational chart to PDF, PowerPoint and the Web for executive presentations and further planning and analysis.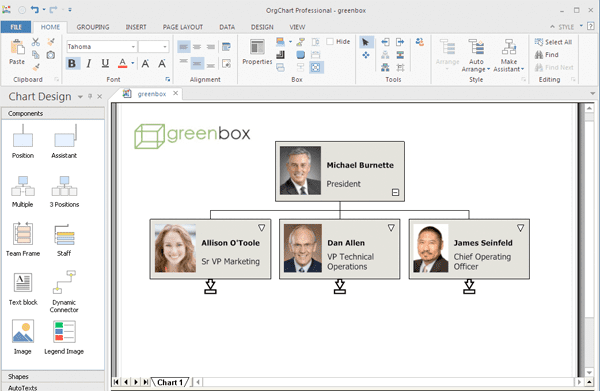 Model Promotion Scenarios.  Determine the resulting structure within various functions if certain individuals are promoted or moved from one department to another.
Improve HR Data. Maybe your HR data is not perfect?  Don't let bad information hold up getting your org charts right and prevent you from gaining insight into your enterprise. Our proprietary Data Import Technology is the best in the industry. Now you have the ability to "clean" and import your HR data with ease.
Presentation Flexibility. OrgChart allows you to define and implement your own rules to create your own look and feel for your charts.
Scenario Planning. Gain insight into your organisation. Monitor key metrics, visualise your organisation and automate your workforce planning scenarios. Tackle complex workforce issues with OrgChart Platinum's HR Analytic engine. OrgChart gives you the ability to plan, visualise and monitor your organisation and its key metrics.
Communicate Accurately Whether you are presenting to the Board of Directors, the Management team, the Managers or Employees, OrgChart helps you present the Organisation as you want others to see it.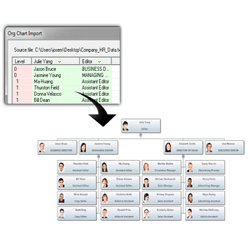 Manual or Auto.  You decide.  With OrgChart Platinum you have options.  Create your org chart manually by dragging and dropping boxes onto the canvas, or… import data from your Payroll System, HR Database or any Spreadsheet.  Sound complicated?  It's not; our Import wizard makes it very easy.
Easy Navigation and Display. Easily "drill-down" to all levels within the organisation as well as from one business unit to another; alternate between chart view and list view for a streamlined display of reporting relationships.
Calculations for Headcount, Span of Control and More.  OrgChart Platinum has calculations that let you view your workforce with greater granularity information about people, costs vs. performance, salaries and span of control.
Automatic Updates.  Organisation Charts are always kept up-to-date through the use of data synchronisation.  You can be confident that any charts you are sharing perfectly reflect your data source.
End-to-End Organisation Charting Solution
OrgChart Platinum enables you to manage your workforce with greater insight, plan for organisation changes with increased clarity, and model change scenarios with detailed accuracy.
| | |
| --- | --- |
| Model Organisation Changes | Create models reflecting potential changes, and compare those scenarios to determine the best options for your organisation. |
| Instantly Visualise Impact | Conditional formatting allows you to select and adjust data conditions such as location, salary range and span of control, then immediately see the impact of those changes upon your organisation. |
| Single-view Employee Profiles | Display key metrics for an employee, like performance, flight risk and competencies, in an "at a glance" 9-box indicator. |
| Automated Data Sync | Cross a recurring task off your list. OrgChart Platinum provides automatic data syncing, set to the schedule that best meets your needs. |
| Secure Collaboration | Direct integration allows you to collaborate without the worry of an unsecure sharing platform. |
| Advanced Publishing Capabilities | Publish your charts in a variety of ways – SharePoint, OneDrive, Dropbox, PDF and HTML for the web or intranet. |
Trusted by over 8,000 organizations worldwide, including: